GENERAL ADVANTAGES OF FLOOR HEATING:
Floor heating offers numerous advantages compared to traditional heating. Silent and completely invisible (no radiators or piping), the comfort it provides is unequalled.
EXCELLENT THERMAL COMFORT through:

ideal temperature distribution corresponding to the height of the room to be heated (from the feet to the head of the occupants)
increased radiant heat emissions, which are more efficient and do not generate movement of air and dust
higher degree of relative humidity achieved in a lower temperature environment

AN IMPORTANT SELF-REGULATING EFFECT:

well-known because of the low-temperature emitters, this effect causes an automatic increase (decrease) in emissions when the ambient temperature decreases (increases) following the disappearance (appearance) of heat gains in the rooms.

ENERGY SAVINGS through:

low stratification
warm walls, making it possible to reduce the air temperature of the room to be heated, thus reducing energy consumption without affecting thermal comfort (ideal for high ceilings). With no loss of comfort, the average temperature of the volume of air of a floor-heated room can be reduced by ~2°C compared to the same room heated by radiators. This difference alone represents an energy saving of 12% on the energy bill!

NO VISIBLE HEAT EMITTER (radiators, piping, etc):

more aesthetic
gains space and greater freedom in the utilisation of rooms and arrangement of furniture, offering new possibilities for interior layout and decoration

NEEDS NO MAINTENANCE, and in addition, "faster dry mopping (this little advantage may cause you to smile but it's a life changer for the person doing the chores)"
A LARGE EXCHANGE SURFACE which, for equal power, reduces the temperature of the heat exchange fluid and enables:

connection to high-performance heat producers such as heat pumps, condensation boilers, co-generation systems and may enable more intense use of thermal solar energy for heating buildings.
reduction in losses in the production, storage, distribution and emission of heat.
SPECIFIC ADVANTAGES OF OPAL SYSTEMS FLOOR HEATING
COMFORT
Uniform distribution of heat
No air currents and movement of dust (fewer allergies)
Excellent reactivity during variable heating demands. A supplementary heat source is no longer necessary
Operates for heating AND cooling
ECONOMY
Controls the risk of overheating due to random heat gains
Energy savings of about 15% compared to radiators
Additional savings of 15 to 35% with the intermittent operation option
ECOLOGY

OPAL Systems won first prize in 2013 in the "Business Product Innovation Award" category.
"This category rewards innovative actions resulting in obvious improvement in quality of life and a positive impact on the environment and usage of energy. These actions contribute to improving the well-being and prosperity of our society."
"This prize rewards companies or research centres that have placed on the market an innovative product or service contributing to the protection of the environment and/or savings in energy and/or natural resources, in its usage or manufacture."
A committee of experts selected OPAL SYSTEMS within the framework of ERFIN (International Rural Life – Environment – Development Association), dedicated to the "heritage and energy" dialogue
MODERN
Aesthetic solution with gain of space (up to 5% of habitable surface area)
Option of vertical or sloping installation
Option of laying on the existing floor without damaging it (heritage buildings)
Thin (20 mm) and light (12 kg/m²) system
IN ORDER TO BETTER UNDERSTAND THE ADVANTAGES OF THE OPAL SYSTEMS FLOOR HEATING TECHNOLOGY, THIS TABLE COMPARES THE CHARACTERISTICS OF CONVENTIONAL FLOOR HEATING TO THOSE OF THE OPAL SYSTEMS SOLUTION.
| CONVENTIONAL FLOOR HEATING | OPAL Systems |
| --- | --- |
| +/- 7 cm thick | 2 cm thick |
| +/- 150 kg/m² | 12 kg/m² |
| Slow reactivity between the set point and the release of heat | Immediate reactivity (a few minutes) |
| Difficult intermittent operation | Easy intermittent operation |
| Long drying time required | No drying time because there is no screed |
| Installation = major construction | Installation = finish work |
OPAL SYSTEMS IS SUITABLE FOR VARIOUS FLOOR COVERINGS
OPAL SYSTEMS floor heating works with various types of existing flooring: wood parquet (nailed, glued or floating), tiling, poured finished flooring (smooth concrete, epoxy, etc.).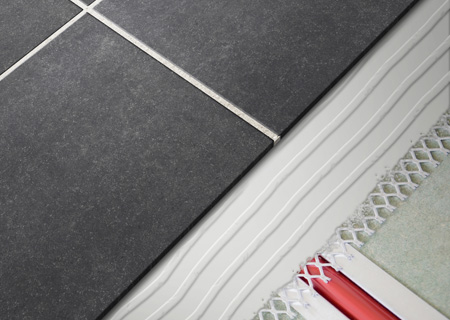 TILING
The aluminium grid that covers the tubes and diffusers not only provides a uniform distribution of heat, but also reinforces the structure. The stability of the installation is unaltered when there are rapid variations in temperature.
To ensure the best possible transmission of heat to the final flooring, it is essential that it be laid on a bed of glue over the whole surface. The tiles must never be laid on spots of glue.
The high-bond mortar used must comply with the European "flexible mortar" regulations and meet the deformability requirements defined by classes S1 or S2.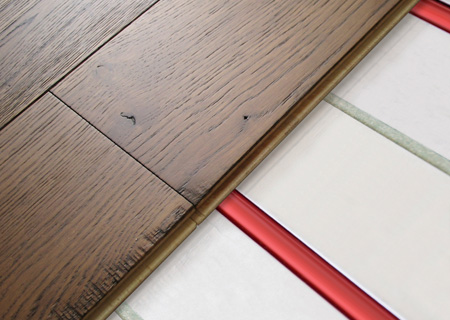 FLOATING OR NAILED WOOD
Because there is no screed, it will be easy to identify the position of the tube in order not to puncture it during the nailing or screwing down of the flooring, which is unique! For floating installation, in order to avoid noise nuisance, laying a sheet of sound insulation can be considered.
GLUED WOOD
The recommendations of parquet specialists must be followed with respect to the installation conditions (humidity), maximum width and thickness of boards, adhesives, types of wood, etc. suitable for floor heating.
To ensure the best possible transmission of heat to the final flooring, it is essential that it be laid on a bed of glue over the whole surface. The tiles must never be laid on spots of glue.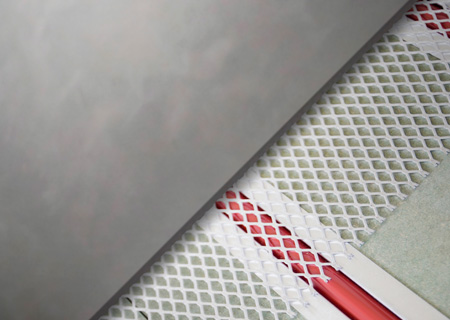 POURED FINAL FLOORING (SMOOTH CONCRETE, EPOXY, ETC.)
Directly poured on the aluminium grid to obtain a very fine reinforced structure (±3 mm). Different finishes are possible: smooth concrete, flame effect, industrial flooring, etc.
FLOOR HEATING: POPULAR PERCEPTIONS
There are certain popular perceptions about floor heating and its disadvantages. Let us help clear some of these up.
"FLOOR HEATING IS UNPLEASANT AND CAN LEAD TO LEG PROBLEMS"
This problem is real and occurs when the floor is too warm in poorly insulated buildings, such as those that commonly existed in the 1960s.
To avoid the risks of blood circulation problems in the legs of occupants (phlebitis, varicose veins, heavy legs, etc.) a legal requirement sets the maximum temperature of the visible face of the final flooring (max. 29 to 35°C). The result is that the maximum emission power of floor heating (not specifically the OPAL system) is approximately 100 W/m². Floor heating can therefore only be considered if the building has minimum thermal insulation.
"IT IS IMPOSSIBLE TO ADAPT THE ROOM TEMPERATURE QUICKLY"
Most systems today are equipped with thermostats enabling a regulation that is more or less effective. Nevertheless a conventional floor heating system will always require much more time to heat or cool.
"TILING IS THE ONLY POSSIBLE FLOORING"
Nearly all types of flooring are possible: tiling, stone, parquet, stratified, concrete, etc. In the case of parquet there are numerous products that are specially adapted to floor heating. Obviously, it is always preferable to find out about the compatibility of your flooring with the floor heating system chosen.
"CARPETS AND FURNITURE WITHOUT LEGS CANNOT BE USED"
If a piece of furniture completely covers the floor, it will totally prevent the emission of heat and it is useless to install floor heating underneath it. This is not true for furniture on legs.
A carpet laid on the floor will inevitably slow down the emission of heat. It will be necessary to circulate hotter water (or for a longer period of time) to bring the upper face of the carpet to the desired temperature corresponding to the emission of heat required by the room. With OPAL SYSTEMS, this adaptation is automatic.
"IN THE CASE OF FAILURE, THE FLOOR MUST BE COMPLETELY DESTROYED"
Floor heating systems do not require any maintenance. With OPAL SYSTEMS, the location of a leak can be more easily determined and a repair accomplished without having to break up screed with a pneumatic hammer. The tubing used by OPAL SYSTEMS heating is provided with accessories and tools that enable certified and final repairs to be made in the floor.